Southern Classic Brings the Highest Level of Quality and Creativity to Every Buford, GA Landscape Installation
We are eager to learn more about what you desire from your Buford, Georgia landscape installation. From designing and building your ideal landscape to providing top-quality maintenance, Southern Classic brings all-around care and support to your landscaping needs. Fill out our contact form to get started or call us at (678) 865-6383 to learn more about complete landscape projects. Our services include: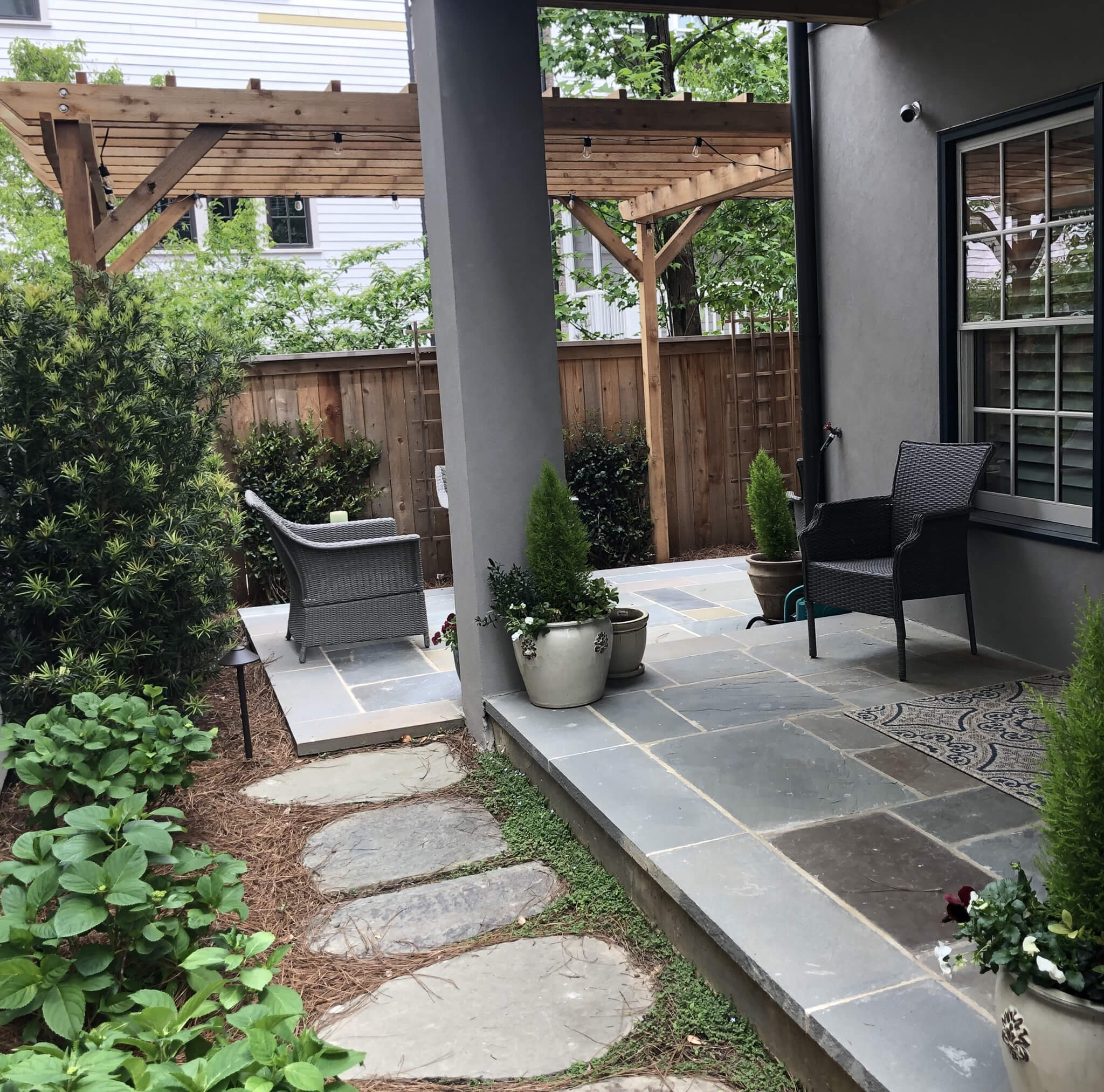 We Design and Build Your Landscape with a Process You Can Trust
At Southern Classic, we intimately understand the challenges that come with any landscape installation project. We consider ourselves your partners in the process, valuing communication, safety, and quality above all else. We never cut corners or skip steps, and we always meet or exceed industry standards. Our teams are proactive and hands-on, so you'll always feel confident that you are receiving premium care.
Custom Landscape Installation Will Bring You Benefits for Years to Come
Every Southern Classic landscape installation is a collaborative work. We'll work with you to determine what elements require our expertise and design a custom plan that meets your needs and expectations. Combined with our responsive communication, work ethic, attention to detail, and adherence to safety best practices, each project we complete is a beautiful testament to the quality we stand for.
Custom Landscape Installation Will Bring You Benefits for Years to Come
Whether you're looking to renovate and modernize your Buford, GA landscape or start completely from scratch, we are dedicated to bringing you a gorgeous landscape that you will cherish. From the moment we begin your project, we are always thinking of how we can bring the highest quality to your landscape installation, both now and in the future. A great landscape installation can make an enormous impact, whether it's for your home or business. Here are just a few of the many long-lasting benefits a complete and custom landscape installation can bring to you:
What Your Neighbors Say About Southern Classic
From full landscape installations to comprehensive maintenance, Southern Classic's clients always receive the highest quality service. We love what we do, but we aren't satisfied until you are too. Check out our testimonials and see what your neighbors in Flowery Branch, Georgia and North Metro Atlanta are saying about our services.
There is simply not enough I can say about the excellent service and advice that Todd, Brad and their entire crew deliver at Southern Classic Landscape. I have been a MORE than satisfied client for several years now and the exemplary professional work has surpassed our expectations every time. In addition to our regular maintenance, Todd just completed a large scale renovation that turned out spectacular. Southern Classic Landscape will be the only landscape company I ever use.
— Sheri W.
I'm completely blown away! I can't believe how much privacy I maintained. I absolutely love it! It's amazing! Great job!
— Beverly M.
We hired Southern Classic to plan an entry courtyard planting for our home. He designed a beautiful garden that greats us and our guests with lush flowers and textures year round. We are thrilled with the results.
— Laura S.
Todd has always managed our large commercial site beyond our expectations with his Landscape Management approach. Our grounds have never looked better. Todd's creative designs and professional management of our enhancement and renovation projects has kept our site constantly improving.
— Fred L.
Director of Physical Plant Services
Todd, just wanted to thank you for the beautiful landscaping. It's perfect and just what I wanted. A neighbor stopped me this morning on my way out to say how nice everything looks. We appreciate you taking such good care of the yard.
— Angie K.
You're the best! Thank you for everything you've done. You guys have definitely gone above and beyond. We can't thank you enough, especially taking care of everything while we have not been there & making it look great.
— Rhonda H.
I have had the pleasure of working with Todd on dozens of projects in Alabama, Georgia and South Carolina. Todd's unique Landscape Management approach has improved not only the appearance of the sites he has managed, but also added value for our stakeholders. If you aren't using Southern Classic Landscape Management, you should be.
— Tom S.
Regional Real Estate Director
From Landscape Installation to Maintenance, Southern Classic is Your Partner in Plants
We know that the upkeep of your residential or commercial property is important to maintain its beauty. That's why we offer comprehensive services that handle every stage of property care from design and installation to maintenance and more.
Landscape Installation

Turn-key, complete landscapes are what we do best. Let our team of in-house experts design and install everything from hardscaping, plantings, patios, walls, steps, lighting, and outdoor living spaces. We'll help you turn your problem area into a lush landscape you can enjoy for years to come.

See Landscape Installation Services

Landscape Maintenance

Once your installation is complete--our maintenance team can help maintain the finished look you've worked so hard to cultivate. Our custom maintenance plans take the work of upkeep off your plate with reliable, comprehensive services that include everything from mowing to pruning, weed control, and seasonal care.

See Landscape Maintenance Services

Outdoor Living

Looking to boost your outdoor living experience? We offer patios, walls, pergolas, and fire pit installations, as well as larger outdoor kitchen builds. Enjoy your landscape from the comfort of your own patio, that will turn it into the perfect setting to entertain guests and relax with your family.

See Outdoor Living Services
Landscape Installation for Buford, Georgia + Surrounding Areas
Southern Classic Landscape is proud to renovate outdoor spaces all across the North Metro Atlanta area. Our service areas extend across Gwinnett, Fulton, Hall, Dekalb, and Forsyth counties. Some of the cities we service include:
Alpharetta
Brookhaven
Berkeley Lake
Dacula
Peachtree Corners
Cumming
Tell Us More About Your Landscape Installation Goals
We would love to start a conversation with you about your vision for your landscape and how we can bring it to life. Fill out our contact form to tell us more about your landscaping needs and ideas. You can also call us at (678) 865-6383 to make an appointment or to learn more. We are greatly looking forward to hearing from you.
Southern Classic is Expanding its Team of Plantsmen
Interested in joining one of North Metro Atlanta's most dedicated landscaping companies? We want to hear from you. Whether you're new to landscaping or a seasoned professional, we'll provide hands-on training and educational opportunities that support your growing expertise. We also offer the highest safety standards to our staff as well as four-day workweeks, paid holidays, a company-matching retirement programs and paid vacations. With our great team and competitive benefits, we know you'll love joining our family of professionals. Contact us for more information.