A Team Dedicated to Quality and Care
At Southern Classic Landscape, we bring complete solutions that yield beautiful landscapes. From initially designing and building your landscape to providing comprehensive care to keep it thriving, we consider ourselves your partner in making your landscape visions a reality.
At Southern Classic, our customers are people and organizations who value the experience of gorgeous outdoor spaces. We work with spaces that range from residential homes to commercial properties, including office buildings, retirement communities, townhome communities, healthcare facilities, retail, and more. We're proud to develop elegant landscapes throughout Gwinnett, Fulton, Hall, DeKalb, and Forsyth counties and surrounding areas.
If you are looking for trusted landscape contractors, contact us today. We would love to start a conversation with you about your landscape and its unique needs.
Our customers know us for our high-quality results, honest communication, and sustainable practices. As leading landscape contractors in North Metro Atlanta and the surrounding areas, we take deep pride in serving a wide variety of clients and budgets, and we are here for you.
After years in the landscaping business, Southern Classic Landscape founder and president, Todd Brown, started Southern Classic because he wanted to help his clients achieve beautiful, long-lasting landscapes. Our company believes in high-quality products and services paired with a design that keeps ongoing care in mind so that your landscape will look gorgeous now and in the future. We pay attention to all the details, and we bring a better selection of plants than DIY and other options may provide.
When you work with us, you can have peace of mind. As landscape contractors, we believe strongly in communication and respecting the time of our customers. We are always on time, we set deadlines and stick to them, and we tackle challenges head-on. If changes are needed, we will talk to you directly about them. We always want you to feel confident and in control.
Southern Classic's Landscaping Services Provide High-Quality Results from Trusted Professionals
We strive to achieve excellence in everything we do. We consider every service we offer to be of equal importance and getting a job done well is a matter of pride for our team. If you're looking for a landscaping company that does it all, your search is over. From installation to upkeep, we're here to create, build, and maintain distinctive landscapes that never fail to please. Our core services include:
Landscape Installation

Turn-key, complete landscapes are what we do best. Let our team of in-house experts design and install everything from hardscaping, plantings, patios, walls, steps, lighting, and outdoor living spaces. We'll help you turn your problem area into a lush landscape you can enjoy for years to come.

See Landscape Installation Services

Landscape Maintenance

Once your installation is complete--our maintenance team can help maintain the finished look you've worked so hard to cultivate. Our custom maintenance plans take the work of upkeep off your plate with reliable, comprehensive services that include everything from mowing to pruning, weed control, and seasonal care.

See Landscape Maintenance Services

Outdoor Living

Looking to boost your outdoor living experience? We offer patios, walls, pergolas, and fire pit installations, as well as larger outdoor kitchen builds. Enjoy your landscape from the comfort of your own patio, that will turn it into the perfect setting to entertain guests and relax with your family.

See Outdoor Living Services
Todd Brown
Founder & President
A true plantsman, Southern Classic Landscape president, and founder Todd Brown has been in the landscape industry for over 35 years. In 1985, he got his start working landscape operations at Post Properties in metro Atlanta, which sparked a deep interest in horticulture. He has a passion for helping people make decisions about their landscapes, and he loves his customers more than anything. When he first got into the business, his grandmother told him that "landscaping and gardening are as opinionated as religion and politics, and that what you like and I like and another person likes could be three completely different things." He took this advice to heart and started Southern Classic Landscape with the vision of helping clients create splendid, distinctive landscapes that meet their individual goals.
At Southern Classic, we are immensely proud to say that we are landscape contractors you will know and recognize. Meet our team— we're always here to listen and help.
Brad Brown
Operations Manager
Brad has over 8 years of experience in the landscape industry leading crews on hardscape construction, planting, carpentry, irrigation and drainage projects. He has a great eye for the fine details and always makes sure our projects turn out just right. Brad also manages the comprehensive maintenance program for our clients. Brad has previous experience in custom woodwork and furniture building and has built some beautiful custom pergolas for our clients. Brad loves spending time with his wife, son and daughter. He is an avid fisherman and hunter and is an expert at losing golf balls.
Your Neighbors Trust Southern Landscape to Create and Maintain Elegant Landscapes
From full landscape installations to comprehensive maintenance, Southern Classic's clients always receive the highest quality service. We love what we do, but we aren't satisfied until you are too. Check out our testimonials and see what your neighbors in Flowery Branch, Georgia and North Metro Atlanta are saying about our services.
There is simply not enough I can say about the excellent service and advice that Todd, Brad and their entire crew deliver at Southern Classic Landscape. I have been a MORE than satisfied client for several years now and the exemplary professional work has surpassed our expectations every time. In addition to our regular maintenance, Todd just completed a large scale renovation that turned out spectacular. Southern Classic Landscape will be the only landscape company I ever use.
— Sheri W.
I'm completely blown away! I can't believe how much privacy I maintained. I absolutely love it! It's amazing! Great job!
— Beverly M.
We hired Southern Classic to plan an entry courtyard planting for our home. He designed a beautiful garden that greats us and our guests with lush flowers and textures year round. We are thrilled with the results.
— Laura S.
Todd has always managed our large commercial site beyond our expectations with his Landscape Management approach. Our grounds have never looked better. Todd's creative designs and professional management of our enhancement and renovation projects has kept our site constantly improving.
— Fred L.
Director of Physical Plant Services
Todd, just wanted to thank you for the beautiful landscaping. It's perfect and just what I wanted. A neighbor stopped me this morning on my way out to say how nice everything looks. We appreciate you taking such good care of the yard.
— Angie K.
You're the best! Thank you for everything you've done. You guys have definitely gone above and beyond. We can't thank you enough, especially taking care of everything while we have not been there & making it look great.
— Rhonda H.
I have had the pleasure of working with Todd on dozens of projects in Alabama, Georgia and South Carolina. Todd's unique Landscape Management approach has improved not only the appearance of the sites he has managed, but also added value for our stakeholders. If you aren't using Southern Classic Landscape Management, you should be.
— Tom S.
Regional Real Estate Director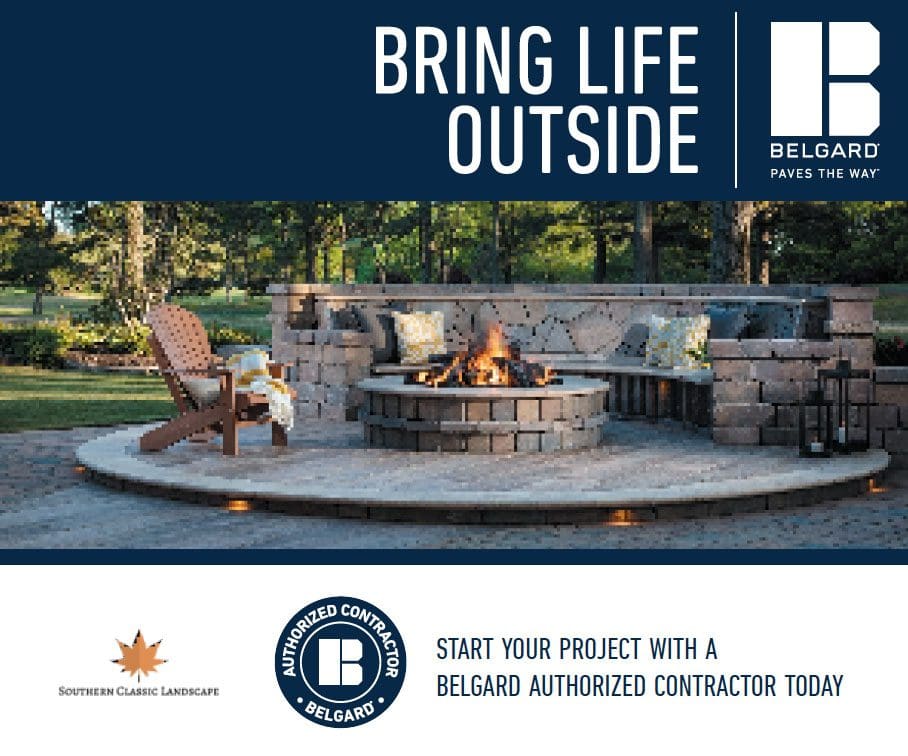 Bring Your Outdoor Vision To Life
Southern Classic utilizes a wide range of pavers, hardscapes, outdoor kitchens and fireplaces, and walls to help you build the outdoor spaces of your dreams. Work with a Belgard Authorized Contractor to bring your outdoor vision to life. In addition to our Portfolio, visit Belgard's Inspiration Gallery to help shape your next outdoor project. Discover what's possible!
Serving North Metro Atlanta and the Surrounding Areas
Southern Classic Landscape is proud to renovate outdoor spaces all across the North Metro Atlanta area. Our service areas extend across Gwinnett, Fulton, Hall, Dekalb, and Forsyth counties. Some of the cities we service include:
Alpharetta
Brookhaven
Berkeley Lake
Dacula
Peachtree Corners
Cumming
Need Landscape a Contractor for Your Space? Southern Classic Can Help
If you are looking for refined, low-maintenance landscapes, we would love to help you create and manage your outdoor spaces. At Southern Classic Landscape, you come first. We will work with you to develop a plan for your style and budget. Fill out our contact form or call us in order to make an appointment or receive more information.
Join North Metro Atlanta's Most Dedicated Landscaping Company
Interested in joining one of North Metro Atlanta's most dedicated landscaping companies? We want to hear from you. Whether you're new to landscaping or a seasoned professional, we'll provide hands-on training and educational opportunities that support your growing expertise. We also offer the highest safety standards to our staff as well as four-day workweeks, paid holidays, a company-matching retirement programs and paid vacations. With our great team and competitive benefits, we know you'll love joining our family of professionals. Contact us for more information.